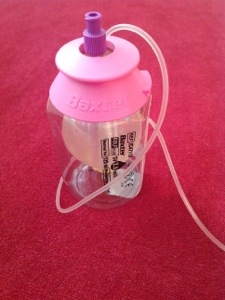 Anyone who has researched chemo is probably aware that in the long term, if cancer does not kill you, chemo will. I always expected that if I was to die from chemo, it would be after many months or years of treatment. I did not expect to be killed in the first month.
I had my baxter chemo bottle connected and was lying on the couch watching TV. I than noticed one of my kids staring at me in horror. For what ever reason, the baxter bottle came undone, and I found myself lying in a pool of blood. Even though my pants and shirt were soaked in blood, I simply did not notice. Lucky the kids did.
I estimated that in the 15 minutes or so when the bottle came lose, I lost maybe 200ml of blood. I hate to imagine what the consequences would have been had this happened in the evening while asleep. Well ok, I imagine I would have bled to death.
From that day, I always have the nurse securely tape all the chemo pump connections just in case.