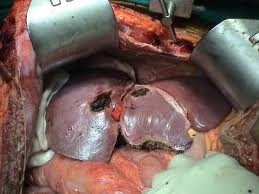 The fluid buildup due to ascites is becoming unbearable, so I decided to go to hospital a day early in a hope of a solution. I got none. I was told that draining the fluid would do more harm than good and that the fluid would return within 24 hours. At least its not a barrier to my liver surgery which I feared the most. I spent the last week sleeping sitting up, but even that is now not possible and even the pain killers that I am on are no longer working. Luckily just one night to go.
I was checked into hospital today and had a series of various pre-op tests. So far it looks like the ALPPS surgery will proceed as planned. The fun starts at 8:30 am.
I had another meeting with the surgeon, and he like me realises that my health is now rapidly deteriorating and that this is my last chance. I stopped all german treatments in preparation for this surgery, and that has taken its toll it seems. He will do all he can and throw in a few non-standard extras. Firstly stem cell therapy to try and speed up the liver regeneration and chemo perfusion in the peritoneum to try and control the ascites after the surgery. Both very experimental and not typically done in this country. In fact I will be the first.
Its not all good news but. I just received an email from hallwang that my last stool sample is showing a massive candida infection. Just great. Nothing that I can do about it now.
The ALPPS surgery will be a lot more complicated in my case and is expected to take 6 to 7 hours. If it goes well, I'll have 93% of my left lobe removed and the liver that is left, will need to quickly regenerate from the remaining 7%. No one knows what will happen when so much liver is removed, especially since with what I have now has started to fail already. I will be in coma for two days following the procedure, which is something I am looking forward to, as I have not had a good night's sleep for weeks now. This is the first of 3 surgeries, and apparently the easiest and safest of the three. Comforting to know.