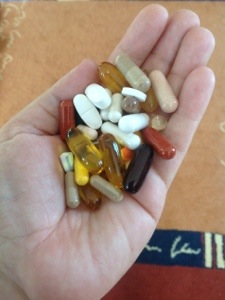 I have decided to publish my current supplement list. Most of the supplements I have researched and I have a good reason for taking, however I do acknowledge that it is getting out of hand and will try to prune it over the coming weeks.
Most of the supplements are on the list because some scientific evidence exists of their benefit for cancer, however please note that very few clinical trials exists to prove the eficacy.
Supplements
AHCC Active Hexose Correlated Compound, 2x 500mg, twice daily noon and night
Beta Carotein, 25000 IU in the morning.
Beta-Glucans, 4g per day in the evening.
CoQ10, 1x 100mg, morning
Curcumin, 2x400mg, 2 times daily morning and night
Dihydroquercetin, 4x10mg, 2 times a day, morning & night
EPA/DHA, 4x 1000mg in the evening
Fish Oil, 4x 1000mg in the morning
GCP (Genistein Combined Polysaccharide), 3 x 15mg, 3 times daily
Green Tea Extract, 1 x 365mg polyphenol, 2 times daily noon and night
Iodine, 1000mcg, 3 times a day morning, noon, night
Magnesium, 500mg in the morning
Melatonin, 2x 10mg at night
N-Acetyl-L-Cysteine, 600mg, twice daily, morning and night
Pancreatin, (50k IU Amylase, 50k IU protease, 50k IU trypsin & chemotrypsin, 4000 IU Lipase) – three times a day with each main meal.
Phospholipids (Ovosan), 3x 150mg, 3 times a day, morning, noon night.
PSK, 3x 500mg, twice a day, morning and night
Resveratrol, 250mg, 2x a day, noon and evening
R-Lipoic Acid, 1×300 mg, morning & noon, only on days When I have no IV
Selenium, 200 mcg, in the morning
Silybin (Milk Thistle Extract), 1x 84mg, three times a day, morning, noon & night
Vitamin B6, 100mg, morning
Vitamin B12, 1000mcg, morning
Vitamin C, 4×1000 mg, 2 times a day, morning & night, only on off IV days
Vitamin D3, 7x 1000 IU, 3 times a day morning, noon & night
Vitamin E, 1x 30IU, in the morning
Vitamin K1, 1000 mcg, morning
Vitamin K2, 1100 mcg, morning
Vitamin K3, 10mg, morning
Zinc, 30mg, in the morning
Amino Acids, 3.6g, I only take this after resistance training, so 3-5 times a week. The formula contains:
Glycine, 0.32g
L-Arginine, 0.40g
L-Histidine, 0.45g
L-Isoleucine, 0.36g
L-Leucine, 0.45g
L-Lysine, 0.65g
L-Methionine, 0.04g
L-Phenylalanine, 0.16g
L-Threonine, 0.22g
L-Tyrosine, 0.23g
L-Valine, 0.32g

Prescription Medicines
Celebrex, 200mg 2 x daily, noon & night
Cimetidine, 400mg, 2x daily, noon & night
Aspirin, 1x 109mg, in the morning
Naltrexone,2x 2.25mg at night
Amlodipine, 5mg, in the morning
TCM Herbs
TCM (Traditional Chinese Medicine) herbs I started taking recently. These are generic formulations, not specific to cancer treatment. I expect to add sone cancer specific TCM herbs in the near future however.
Liu Wei Di Huang Wan (Rehmannia Six Formula), 8 tabs, noon and night.
Contains:
Rehmannia Glutinosa Root 187mg
Dioscorea Opposita Root, 187mg
Cornus Offcinalis Fruit, 68mg
Poria Cocos Root, 136mg
Paronia Suffruticosa Root, 136mg
Alisma Plantago aquatica Root & Rhizome, 119mg
Glycyrrhiza Uralensis Root, 17mg
Xiao Yao San (Bupleurum & Danggui Formula), 8 tabs, 2 times daily, noon & night
Bupleurum Faicatum Root, 127mg
Angelica Polymorpha Root, 127mg
Paeonia Lactiflora Root & Rhizome, 170mg
Atractylodes Macrocephala Root Wood, 127 mg
Poria Cocos Root, 144mg
Glycyrrhiza Uralensis Root, 51mg
Mentha Haplocalvx Leaf, 51mg
Zingiber Officinale Root, 51mg
5 Flower Formula, not sure what this contains at this time. It's an extract from five different chinese flowers. 2 tea spoons twice daily inbetween meals to be taken with a pawpaw smoothie.
IV Treatments
Every monday, Wednesday and Friday I have an IV infusion. It contains:
Vitamin C as sodium ascorbate, 90g
Alpha Lipoic Acid
Sodium Bicarbonate, 0.8g
Injections
Once a week I inject 2.5ml of GCMAF
Once every 2 days I inject Iscador (Mistletoe extract)
Diet
Every day I have a serving of MAF878, probiotic yogurt which I brew at home from starter cultures.
I have a cup of berries, blueberries, raspberries and strawberries with 1/2 tea spoon of cinnamon
I also brew a herbal tea and have 4 small cups each day. The Tea contains. Chamomile, Mint, Lemon Balm, Soursop Leaves and Stinging Nettle. Sometimes I add few slices of raw ginger.
The Chamomile, Mint and Ginger is to help with nausea. Lemon Balm has a calming effect, Soursop is said to have anti-cancer properties, and Stinging Nettle is to help red blood cells to recover after chemo.
The Future
In the near future I intend to add, Metformin, Quercetin and additional Ginistein, as I feel the GCP formulation does not contain enough.