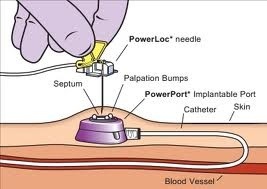 On my last day at Hallwang (for this round of treatment at least), I had my port de-accessed. I already knew there was going to be a problem as the port felt tender to the touch. Sure enough, when the dressing and gripper needle came out, the area around the port was red, slightly swollen and tender to the touch. I knew it was an infection and I wanted to scream "I told you so!".
To explain, on my third day at Hallwang I started arguing with the nurses about the procedure they used to access and dress my chemo port. I actually told them that if they continue to dress the port 'their way' that my port would get infected before very long. I guess I did not argue hard enough.
At hallwang they wrap the gripper needle in surgical gauze, then tape it over with a waterproof plastic patch. My problem is that due to my daily fevers, I tend to sweat a lot in the evening and throughout the night. The gauze traps the moisture and the waterproof plastic dressing seals it in. You end up with a warm, moist environment. Paradise for bacteria. I hate being right.
It was a long drive from Hallwang to Duderstadt and by the time I arrived for my next round of immunological treatments there, the port became very swollen and extremely painfull to the touch. It did however improve by the following morning, so this gave me some hope. Hope soon to be dashed.
On Monday at Duderstadt, Dr. Nesselhut had a look at the port and said that it needed to come out as soon as possible. That for me would be a disaster, as I don't handle needles and pick lines all that well.
I was not ready to give up my port just yet and asked for a prescription of antibiotics instead. I thought that I would give it a week to see if the antibiotics could clear the infection.
There has been no improvement thus far and three days have passed now. I am still hopeful however…